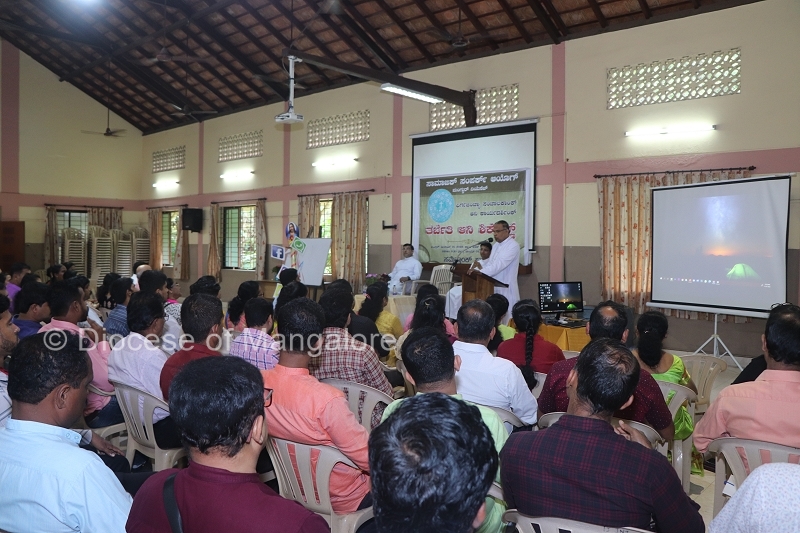 MANGALURU, JULY 31: The Diocesan Commission for Social Communication organised a one-day training programme for the parish convener and secretary of the Commission for Social Communication on Sunday, July 31, 2022, at Pastoral Centre, Bajjodi, Mangalore.
Almost 110 conveners, secretaries and others who are part of the parish communication team, representing 67 parishes were present for the training programme.
The participation from the deaneries wise is as follows:
Episcopal City Deanary | ಎಪಿಸ್ಕೊಪಲ್ ಸಿಟಿ  -7
City Deanry | ಸಿಟಿ ವಾರಾಡೊ – 14
Bantwal | ಬಂಟ್ವಾಳ್-  5
Bela | ಬೇಳಾ – 7
Belthangady | ಬೆಳ್ತoಗಡಿ – 5
Kinnigoly | ಕಿನ್ನಿಗೋಳಿ – 2
Mogarnad | ಮೊಗರ‍್ನಾಡ್ –4
Moodbidri | ಮೂಡ್‌ಬಿದ್ರಿ –6
Permannur | ಪೆರ್ಮನ್ನೂರ್ – 6
Pezar | ಪೆಜಾರ್  -3
Puttur | ಪುತ್ತೂರ್ – 4
Surathkal | ಸುರತ್ಕಲ್ -4
Most Rev. Dr Peter Paul Saldanha, Bishop of Mangalore presided over the inaugural programme. The inauguration was done in a creative way. The dignitories and theparticipants placed the social media icons arround a lamp stand upon which the picture of Jesus was placed. It gave out a call to proclaim Christ through social media.
Rev. Fr Anil Ivan Fernandes, Secreatry, Commission for Social Cpmmunication and Director of Canara Communcation Centre gave an overview of the roles and responsibilites of the parish Conveners and secreataries of the commission.
Rev. Fr Sudeep Paul MSFS, Regional Secretary, Social Communication and Director, Sandesha Foundation, Mangalore spoke on"the effective use of social media in parish ministry.
The Eucharistic mass was held in the noon before lunch. Bishop Peter Paul saldanha celebrated the mass and preached homily.
Rev. Fr Chethan Lobo, CAP, an acclaimnmmed journalist, Diector of Assisi Press and Studio, former PRO and Communication Director in Udupi engaged the afternnoon session. He trained the the participants on evolving an suitable action plan at the parish level.
Fr Anil Fernades trained and educated the particiapnts on designing the posters, writing Kannada font in Mobile, and gave useful information regrading managing the media and communication in the parishes.
Rev. Fr Anil Ivan Fernades welcomed the gathering. Fr Thrishan Dsouza, Executive Committee Member compered the programme.  Committess members Sr Prameela Dsouza AC  and Fr Jovin Sequeira, Parish Priest, Cordel led tha prayer service. Committee Members Mrs Priya Noronha and Sr Prameel Dsouza introduced the resource persons.